Apr. 09, 2019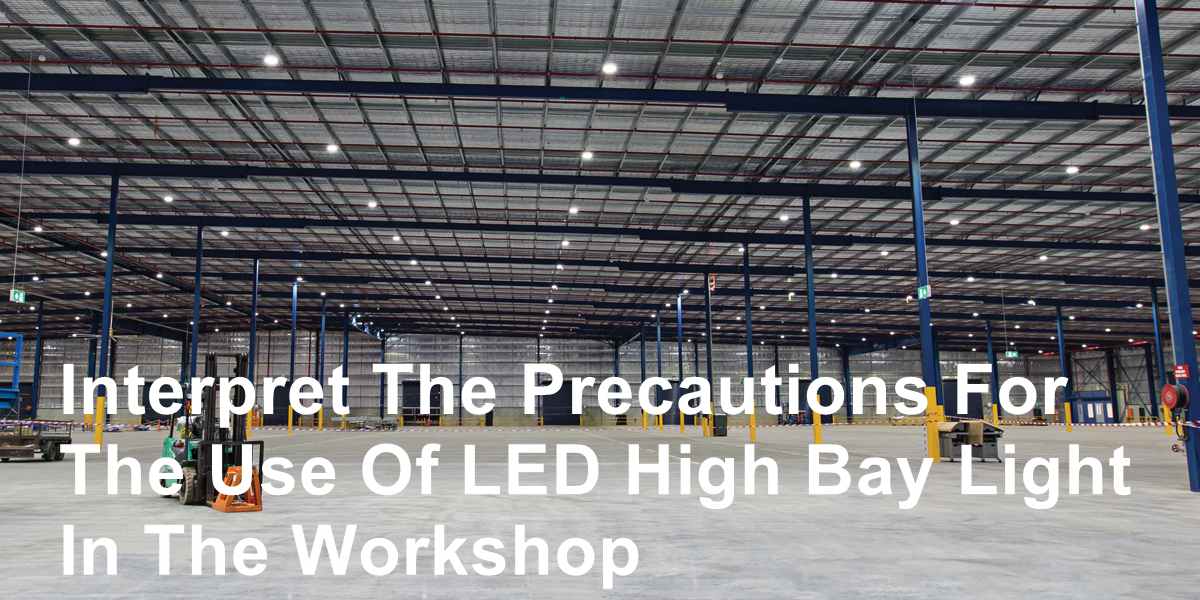 LED High Bay Light is based on the traditional high-power high bay and low bay lamps and uses LED lighting technology to achieve the purpose of saving energy consumption and improving illumination, thus reducing the cost of investment funds, saving costs. LED High Bay Lights have been widely used in indoor lighting like workshops, warehouses. Let's talk about the precautions for the use of LED high bay light in the workshop.
1. LED
A good product should have a good heart. The heart of LED highbay light is LED chips. The good LED chips could make the light efficiency of the LED high bay lamp higher and the life of the whole lamp longer. How should we choose LED chips? ZGSM LED high bay lights use high efficacy PHILIPS LUMILEDS LED chips, so that the lamp efficiency reaches 130-190lm/W.
2. Driver

The driver is the brain of LED high bay lamps. It determines the LED high bay lamps can work under what voltage. For example, choosing a DC driver can make the lamp work in a solar lighting system under 12V/24V DC, and choosing an AC power supply of 100-240VAC can make the lamp connect to the national mains of most countries, and the high-voltage power supply can be selected to apply the lamps to some industrial lighting projects requiring high working voltage.
We could also choose the drivers according to the functions you demand. For example, if no special requirements, we only need to choose the switching on/off drivers by default. If we need dimming, we can choose 0-10V dimming or DALI dimming drivers; if double insulation is required, we can choose drivers in Class II.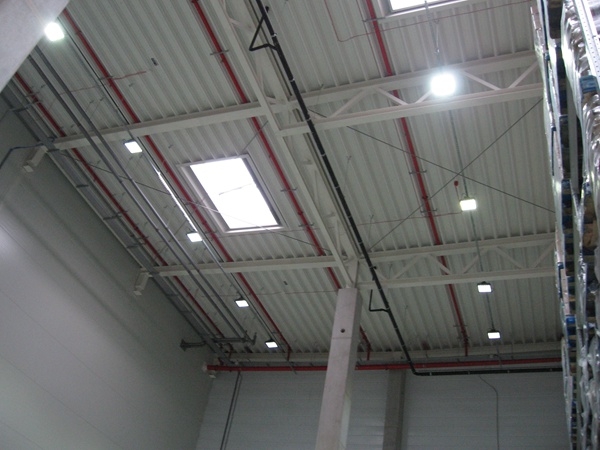 HB Series LED High Bay Light With Meanwell 1-10V dimming driver For Warehouse Lighting

3. Heat Dissipation

Heat dissipation performance is very important for LED lamps, which directly affects the working performance and lifespan of LED lamps. Especially in some specific high temperature applications(such as steel plants, chemical plants), or some countries with high ambient temperature(such as Saudi Arabia, the United Arab Emirates, Iraq), the heat dissipation performance is particularly important. ZGSM Helios Series UFO design LED high bay light uses aluminum with high thermal conductivity as the material of the shell, and adopts the integrated heat dissipation design, with high stability, high reliability and high thermal conductivity.
4. CRI
What does CRI mean? The color rendering index (CRI) is a quantitative measure of the ability of a light source to reveal the colors of various objects faithfully in comparison with a daylight or sunlight source. Simply put, the color rendering index does not describe the color of light, but how close an object is to its actual color when illuminated by that light source. The high CRI of light source are desirable in the lighting of workshop of color-critical applications such as art restoration, dyeing, spray and so on. ZGSM high bay LED lights use Lumileds LED chips with high CRI of 70, 80 and 90, which could meet the corresponding requirements of different applications for color rendering index.
5. Installation Way

Before choosing and purchasing lamps, we also need to confirm the lamps with which installation method is suitable for the application place.
If there is a stable fixed point on the ceiling to install, we can choose the bracket mounted type of high bay LED lights.
H Series LED High Bay Light For Garage Lighting Project
Download

Installation Manual_HighBay&Flood&TunnelLight_H.pdf

Data Sheet_HighBay&Flood&TunnelLight_H.pdf
If the ceiling does not have a stable fixing point or the ceiling is much higher than the installation height we want, then we can choose to use metal chains to suspend it.
Helios Series LED High Bay Light For Workshop Lighting Project
Download

Installation Manual_HighBayLight_Helios.pdf

Data Sheet_BayLight_Helios.pdf
6. Accessory
There are a lot of extra accessories for your options to achieve a variety of functions and meet different needs.
For example, if you want to control the lamps from a PC or mobile phone and make the lighting system smarter, you could add a smart control system to these LED high bay lighting projects;
If the area you want to illuminate does not always have people there, only sometimes people come over, you can choose to add a microwave sensor to the high bay light and set it working as 'working under 50% power when no people and turn to 100% power automatically when it inducing persons coming'. This could help you to save more energy.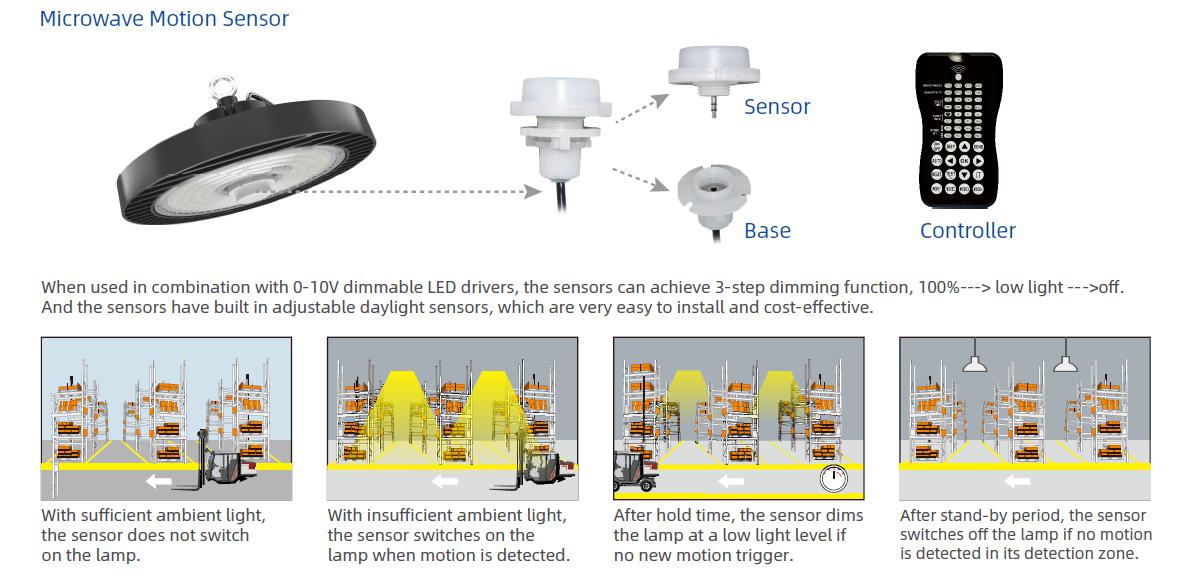 Introduction Diagram of Microwave Sensor
Now LED lighting technology is developing rapidly, LED has become the best choice for light source. More and more people choose LED lights when replacing old lamps, and many bids for new projects also explicitly require LED lamps. ZGSM is a professional manufacturer of LED lights in China, who dedicated to the R&D and production of LED lamps for over 17 years. Our main products include LED street lights, LED high bay lights, LED flood lights, LED canopy lights, LED gas station lights, LED tunnel lights, LED garden lights, LED projector lights, solar LED street lights, LED traffic lights and LED plant grow lights. We have supplied high-quality LED lamps to customers in more than 90 countries around the world, and providing them with professional lighting solutions and advice.
If you have any demands for LED lights, please kindly check our PRODUCTS page.
If you want to know more about the product or don't know how to choose lamps, please CONTACT US.
Video of Helios LED High Bay Light

Related Products
Related Projects
Related Blogs
| | | |
| --- | --- | --- |
| | | |
| Why does LED High Bay Light use LED? | Guide to Buy LED High Bay Light | Types & Advantages Of LED High Bay Lights |
| | | |
| What Is The Installation Distance | | |
People Also Ask
1. Where can you use LED high bay lights?

When a vast indoor space requires illumination, high bay lighting is usually the best option. Consider areas such as manufacturing plants, gymnasiums, warehouses, enormous department shops, factories, and more; these structures are often large and span a considerable amount of vertical and horizontal space.




2. What is the difference between LED high bay lights and LED low bay lights?

Reflectors or lenses are used in low bay lighting fixtures to disperse light and reduce glare. To make the light flow down to the floor, a high bay light fixture requires specific reflectors made of aluminum or prismatic components to scatter the light and illuminate shelves and other higher objects.




3. Why do some high bay LED lights have 7 wires?

Typical high bay LED light fixtures have three, five, or even seven wires coming out of the fixture housing. Two wires, black and white, are used for power, while green is used for ground. 0-10v dimming is available on high bay lights with 5 wires. High bay lights with seven wires are designed to work with 12 volt controllers. The cables are labeled in most cases so you know which ones are for 0-10v dimming and which ones are for 12v controls.




4. What is the best choice: LED, fluorescent or CFL?

LED lights have a mild dimming effect and do not flicker. LEDs also have the ability to turn on instantly in any setting and under any weather conditions. Fluorescent or compact fluorescent lights (CFLs), on the other hand, are not dimmable and frequently flicker.


In the above quiz, you'll also find inside information about various LED light advantages. As a result, LED is clearly superior to fluorescent and CFL lighting.