Dec. 02, 2020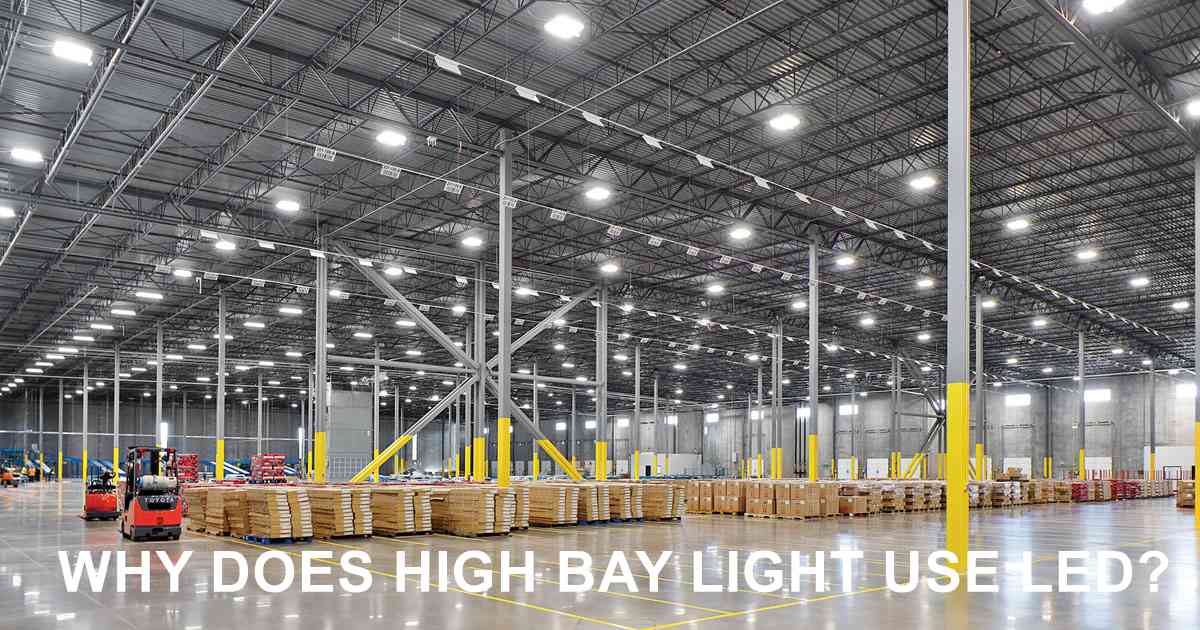 Why Does High Bay Light Use LED?
The LED lamp proved to be a groundbreaking invention - due to its low power consumption, short start-up time, and high lighting quality. These lights can indeed help consumers save a lot of money on energy bills and get better lighting in their homes, businesses, and outdoor areas. However, given the enormity of the choice, most people aren't sure which light to buy. LED lamps come in different sizes, colors, and lumens, so it's hard to find the right light.
As electricity prices rise and prices for LED lights fall, businesses are looking for cost-effective ways to achieve LED energy efficiency. Replacing old high-ceilinged lights with new CFLs is a good place to start.
Before we go into the details of choosing the right LED light, it is important to determine why you need to choose LED lights. There are a number of reasons why you should choose LEDs for high bay lights. Here are some of them.
Cost
The current cost of LED ceiling lights and LED bulbs is very low compared to other bulbs. You can get these bulbs for the same price as other bulbs.
Energy saving
As the planet faces energy challenges, it is becoming increasingly difficult to find new and better sources of power that do not damage the environment. That's why you need to look for options that can make a difference in energy efficiency. LED bulbs use less energy and produce more light. You can save a lot of money on electricity by using these lights.
Appearance
Everyone wants to improve the look of their homes and businesses. So they look for different decorative items and other design ideas. But bright businesses attract customers and make them feel safe. LED high bay lights produce more lumens of light to make your business truly shine.
ZGSM Helios Series LED High Bay Light

Download

Installation Manual_HighBayLight_Helios.pdf

Data Sheet_BayLight_Helios.pdf
Ease
These lights last longer. You don't have to change them again and again.
Security
In LED bulbs and LED ceiling lights, no UV or mercury is used or emitted. As a result, they are safer to use and operate than other bulbs. These lamps are ideal for health and safety.
When it comes to warehouse lighting, productivity and safety should be top concerns. Since warehouses usually have high ceilings, it is challenging to properly light the whole space, and in addition to installation, we also need to reserve a large amount of money for maintenance if we choose poor quality lighting. LED High Bay Lights are the best solution to replace HPS, LPS, and fluorescent lamps because of their high durability and lower electricity bills.
We should choose LED high bay light with high lighting efficiency. Have you ever experienced that even 1000W lighting is not that bright? This may be because you use halogen or incandescent bulbs. Because of their very low energy efficiency, even if you use "high power" lamps, their brightness will be very low. Nonetheless, LEDs are eight to 10 times more efficient than these conventional lights. So a 100W LED replaces a 1000W halogen or metal halide lamp.
ZGSM is a professional LED high bay light supplier, has focused on designing, developping and producing LED lights for more than 17 years . If you have any questions or demands about LED lights, please feel free to contact us.
Related Products
Related Projects
Related Blogs
| | | |
| --- | --- | --- |
| | | |
| What Is The Installation Distance | Interpret The Precautions For The Use Of | How To Prevent LED High Bay Light |
| | | |
| Guide to Buy Led High Bay Light | What Are The Advantages Of Led High Bay Light? | How To Replace Industrial Workshop Lights? |
People Also Ask
High bay LED lights are designed for higher ceilings, usually 20 to 45 feet, and provide adequate light intensity to be diffused across wide areas or concentrated on specific locations.




2. What is the difference between LED high bay lights and LED low bay lights?

Reflectors or lenses are used in low bay lighting fixtures to disperse light and reduce glare. To make the light flow down to the floor, a high bay light fixture requires specific reflectors made of aluminum or prismatic components to scatter the light and illuminate shelves and other higher objects.




3. Why do some high bay LED lights have 7 wires?

Typical high bay LED light fixtures have three, five, or even seven wires coming out of the fixture housing. Two wires, black and white, are used for power, while green is used for ground. 0-10v dimming is available on high bay lights with 5 wires. High bay lights with seven wires are designed to work with 12 volt controllers. The cables are labeled in most cases so you know which ones are for 0-10v dimming and which ones are for 12v controls.




4. How do you replace metal halide with LED?

Depending on how the existing lighting configuration is configured, there are a variety of approaches to retrofit lighting systems with LEDs. In many circumstances, replacing the existing fixture with a new LED fixture that produces a comparable lumen output is the simplest and most basic solution.

In other cases, reconfiguring a complete lighting system plan to effectively update to LED technology may be necessary. There are a few cases when an LED retrofit kit can be used to update an existing fixture, but this requires some electrical knowledge to execute successfully.