Solar street lighting project for a park in Mexico, completed in 2015. ZGSM is a manufacturer factory of solar LED street lamps from China. We recommended 35W H Series solar powered street lights with 24V DC driver to our clients. High efficacy Lumileds chips make the efficacy of lamps up to 165lm/W. Suspended mounting designed battery boxes, which contain MPPT charge controllers and Lithium batteries, are easy to install. What's more, the IP67 design makes it could also protect the controllers and batteries from both the rain and theft. It could also help to save both cost and space by mounting two pcs LED street lamps on each pole.
Product Details:
Product: 35W LED Street Light
Model No.: ZGSM-LD35H
LED: Lumileds Luxeon Tx
Driver: Meanwell
CCT: 4000K
Optics: Type 2M
QTY: 65 Units

Video
Project Photos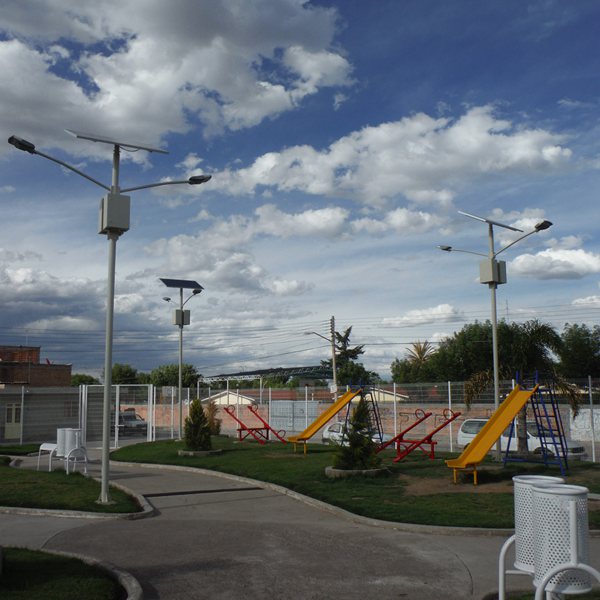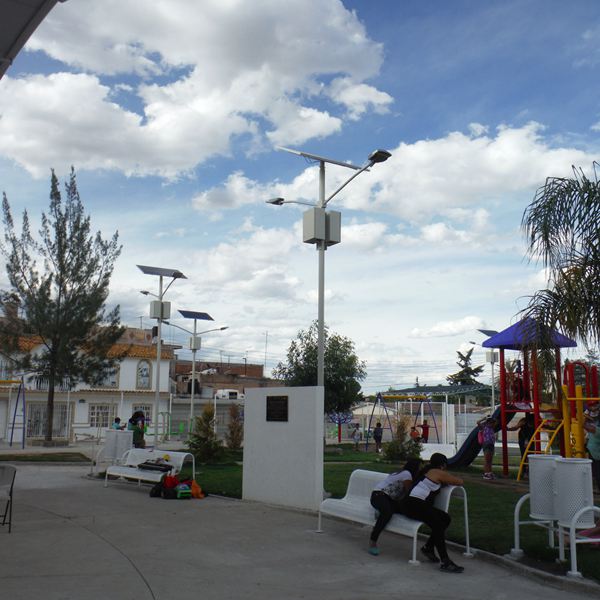 Specification
Model
LD40H4
LD50H5
LD60H6
LD80H4
LD100H5
Power
40W
50W
60W
80W
100W
Lumen
5600-6600LM
7000-8250LM
8400-9900LM
11200-13200LM
14000-16500LM
Warranty
3 YEARS
3 YEARS
3 YEARS
3 YEARS
3 YEARS
Panels
Mono 100w x1
Mono 120w x1
Mono 100wx2
Mono 120wx2
Mono 150wx2
Battery
150AH x 1
180AH x 1
150AH x 2
180AH x 2
200AH x 2
Controller
10A/12v
10A/12v
10A/24v
10A/24v
15A/24v
Pole height
4-6m
4-6m
6-8m
8-10m
8-12m
Pole distance
9~14m
12-21m
18-25m
24-30m
24-36m
Color Rendering Index
Ra>70
Color Temperature
3000K or 4000K or 5000K or 5700K
Photometric Type
Type I Medium; Type II Medium; Type III Medium, TypeV Short
Optimal Operating Temperature
25°
Storage Temperatures
-40°C~50°C
Working Environment
Between-40°C~+50°C, 10%~90%RH
Total Harmonic Distortion
< 10%
Lumen Maintenance
> 100000 hours -L70, @25 ºC (77 ºF)
Wind Index
Force 12
Body
Die-cast Aluminum Housing
Cover
PC lens
Pole Fitter Diameter
60mm ( 50mm optional)
Control
Daylight sensor, Timer
Certification
CE, ROHS, LM80
Download

Installation Manual_StreetLight_H.pdf

Data Sheet_StreetLight_H.pdf
Related Products
Related Projects
Related Blogs
| | | |
| --- | --- | --- |
| | | |
| Several Misunderstandings in the Installation of | Which Components of Solar Street Lights | How to Extend the Battery Life of |
| | | |
| | | Advantages of Solar Street Lights |
People Also Ask
What are the components of solar powered street light?

Solar powered street lights are made up of solar panels, controllers, batteries, and light sources, among other things. When the solar panel is exposed to sunshine, it absorbs the light and converts it to electricity. The rechargeable battery will store the electricity.




How do solar powered street lights work?

Photovoltaic technology converts sunlight into DC electricity, which is used in solar street lighting systems. The generated electricity can either be used immediately throughout the day or saved in the batteries for later use at night.




Can solar powered street lights remain on even if we have cloudy days?

Yes, even if there is no sun, our systems are designed to supply at least 5 nights of power. We base our methods on the Winter Solstice, when the day is shortest and the night is longest. We do this by evaluating your local solar/weather conditions to ensure that our systems are turned on at night, when it is most needed.