Solar street LED lighting project in Ecuador. It was installed and put into use in 2015. We recommended H Series solar energy Street Lights to our customer because the anti-corrosion and waterproof IP66 design could perfectly meet the requirements of seaside roadway lighting. The high efficacy monocrystalline solar panels, Lead-acid maintenance-free batteries, and intelligent MPPT charge controller ensure the solar LED street lamps can have enough power for lighting at night. What's more, we could also equip these solar-powered street lights with motion sensors or remote control to make them more energy-saving. This project with induction solar street lights has worked for more than 7 years, with no need to maintain.
Project Details
1x 100W Solar Street LED Light (Model No.: ZGSM-LD100H, LED: Lumileds Luxeon TX, Driver: 24V DC driver, CCT: 5700K, Optics: Type 2M)
2x 175W Mono Solar panels/DC37V
2x. 200AH Lead-acid battery/ DC12V
1x 20A/DC24V solar controller
1x 11m pole for solar LED street light
Total 53 sets.
Video
Project Photos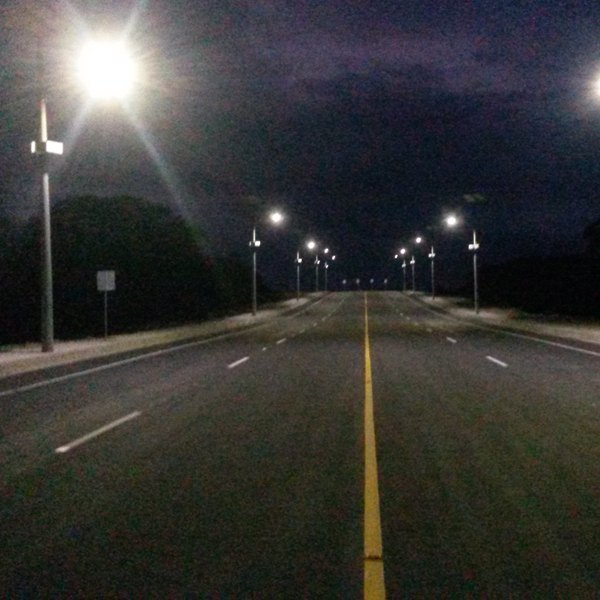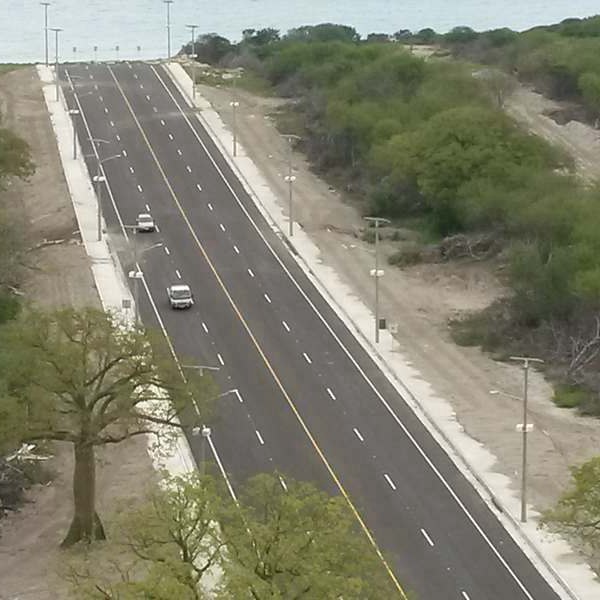 Specifications
| | |
| --- | --- |
| Model | ZGSM-LD100H |
| LED Number | 42units |
| Nominal Power | 100W |
| Battery Spec. | 200AH /12V Lead-acid Maintenance-free Battery |
| Solar Panel Spec. | 175W /37V Monocrystalline Solar Panel |
| LED Brand | Lumileds Luxeon TX |
| Luminous Flux | 11000lm |
| Light Type | Type 1M, 2M, 2M BLS, 3M, 5S |
| CCT | 3000K.4000K.5000K.5700K |
| Worktime | more than 33 hours |
| Mounting Height | 11m |
| Space Between Light | 18~35m |
| Pole Diameter Fixture | Round pole: Φ50~60mm |
| Rating | IP66, IK10 |
| Certification | CE, ROHS,LM-80 |
| Warranty | 3 Years |
Download

Installation Manual_StreetLight_H.pdf

Data Sheet_LEDStreetLight_H.pdf
Related Products
Related Projects
Related Blogs
| | | |
| --- | --- | --- |
| | | |
| | Which Components of Solar Street Lights | |
| | | |
| | The Use Environment of Different Solar Street Lights | Advantages of Solar LED Street Lighting Fixture |
People Also Ask
What information you should provide us to better customize solar street LED lights?

- What is the geographical location your solar LED street lighting system will be installed?

- How many hours per night the LED street light works?

- How many days to backup in case of continuous rainy days?

- Do you need dimming the LED street light (during the off-peak hours)?

- Any other requirements?




Why are my LED solar lights not working?

Because solar lights rely on sunshine for their power, they will not function if they do not receive the required amount of sunlight. As a result, ensure that your solar light is installed or positioned in an area where it will receive sufficient sunshine to charge its battery and function effectively.




Can solar street lights remain on even if we have cloudy days?

Yes, even if there is no sun, our systems are designed to supply at least 5 nights of power. We base our methods on the Winter Solstice, when the day is shortest and the night is longest. We do this by evaluating your local solar/weather conditions to ensure that our systems are turned on at night, when it is most needed.