The solar street lighting project in France was finished and put into use in 2013. Clients chose ZGSM H Series split solar street lamps for outdoor park lighting. This model has an adjustable mounting bracket, which could install lamps both vertically and horizontally. What's more, no matter installed vertically or horizontally, the mounting inclination angle of solar powered street lamp could be adjusted by 0-5-10-15 degree. We provide 3 years warranty for ZGSM manufactured solar street lamps. While these lamps in the project are still working well by now.
Product Details
Product: 35W Solar LED Street Lamp
Model No.: ZGSM-LD35H
LED: Lumileds Luxeon TX
Driver: 12V DC driver
CCT: 5000K
Optics: 3M
QTY: 30 Units
Video
Project Photo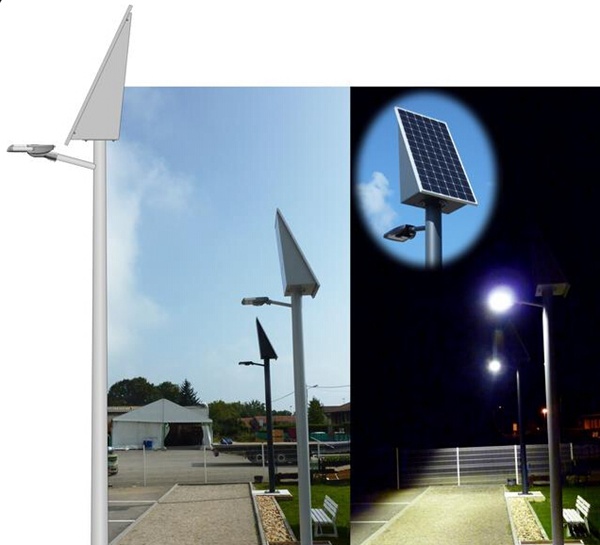 Specification
Model
LD40H4
LD50H5
LD60H6
LD80H4
LD100H5
Power
40W
50W
60W
80W
100W
Lumen
5600-6600LM
7000-8250LM
8400-9900LM
11200-13200LM
14000-16500LM
Warranty
3 YEARS
3 YEARS
3 YEARS
3 YEARS
3 YEARS
Panels
Mono 100w x1
Mono 120w x1
Mono 100wx2
Mono 120wx2
Mono 150wx2
Battery
150AH x 1
180AH x 1
150AH x 2
180AH x 2
200AH x 2
Controller
10A/12v
10A/12v
10A/24v
10A/24v
15A/24v
Pole height
4-6m
4-6m
6-8m
8-10m
8-12m
Pole distance
9~14m
12-21m
18-25m
24-30m
24-36m
Color Rendering Index
Ra>70
Color Temperature
3000K or 4000K or 5000K or 5700K
Photometric Type
Type I Medium; Type II Medium; Type III Medium, TypeV Short
Optimal Operating Temperature
25°
Storage Temperatures
-40°C~50°C
Working Environment
Between-40°C~+50°C, 10%~90%RH
Total Harmonic Distortion
< 10%
Lumen Maintenance
> 100000 hours -L70, @25 ºC (77 ºF)
Wind Index
Force 12
Body
Die-cast Aluminum Housing
Cover
PC lens
Pole Fitter Diameter
60mm ( 50mm optional)
Control
Daylight sensor, Timer
Certification
CE, ROHS, LM80
Download

Installation Manual_StreetLight_H.pdf

Data Sheet_SolarStreetLight.pdf
Related Products
Related Projects
Related Blogs
| | | |
| --- | --- | --- |
| | | |
| What Should I Pay Attention to | | |
| | | |
| How to Choose a Battery for Solar Street Light? | The Use Environment of Different Solar Street Lights | Advantages of Solar Street Lights |
People Also Ask
Do solar panels work with Moonlight?

As we know that moonlight is simply sunlight reflected off the moon, you'll be relieved to learn that yes, solar panels can operate with moonlight.




Can water damage solar panels?

Moisture won't harm solar panels because they're waterproof. Rain, in fact, is beneficial since it washes away some of the dirt and debris that builds up on the panels over time.




Can solar work without battery?

No.

Batteries are required for off-grid solar panels to function. Batteries are necessary to store electricity in off-grid solar panels. In the absence of electricity and batteries, the only choice is to purchase a grid-connected solar inverter.




What is the energy-saving mode of All In One Solar LED Street Light?

All In one solar led street light could be set to work under low power, for example 30% or 50% of full power, when no persons or cars. It would be turned to 100% when the motion sensor induces persons or cars pass.