Aug. 01, 2020
1. Brief description of solar street lights
Solar street lights are powered by crystalline silicon solar cells, maintenance-free valve-regulated sealed batteries (gel batteries) store electrical energy, ultra-bright LED lamps are used as light sources and are controlled by intelligent charge and discharge controllers to replace traditional public power lighting. Street lights. No need to lay cables, no AC power supply, no electricity bill; DC power supply, control; with good stability, long life, high luminous rate, easy installation and maintenance, high safety performance, energy-saving, and environmental protection, economical and practical advantages. It can be widely used in urban main and secondary arterial roads, communities, factories, tourist attractions, parking lots, and other places.
2. Composition of solar street light system
The solar street light system is composed of LED light sources (including drivers), solar panels, batteries (including battery incubators), solar street light controllers, street light poles (including basics), and auxiliary materials and wires.
Solar cell components generally use monocrystalline silicon or polycrystalline silicon solar cell components; LED lamp holders generally use high-power LED light sources; controllers are generally placed in the light pole, with light control, time control, overcharge and over-discharge protection, and reverse connection protection. The high controller also has the function of adjusting the lighting time in four seasons, half power function, intelligent charging, and discharging function, etc.; the battery is placed underground or the battery incubator with a door, and valve-regulated lead-acid batteries, gel batteries, Iron-aluminum batteries or lithium batteries, etc. The solar lamps work automatically without trenching and wiring, but the light poles need to be installed on the embedded parts (concrete base).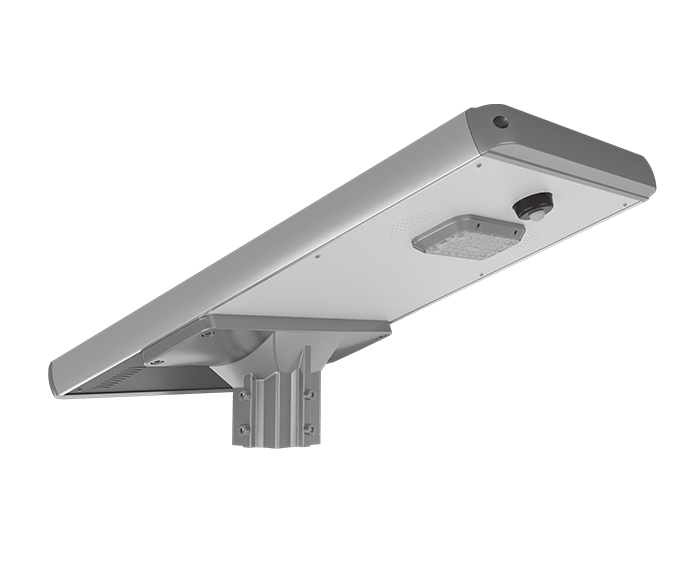 Lithium Battery Solar Street Light
3. Comparative analysis of solar street lights and conventional street lights
1. Installation comparison
When installing solar street lights, there is no need to install complicated circuits, just make a cement base and make a battery pit within 1m, and fix it with galvanized bolts.
There are complicated operating procedures in the construction of city circuit lights. A large number of civil works such as digging and laying pipes, threading in the pipes, and backfilling must first be supplemented with cables, which consume a lot of manpower, material, and financial resources. Afterward, debugging will be carried out. Once a problem occurs, it will cause a lot of consumption.
2. Cost comparison 
Solar street lights have a secondary investment and long-term benefit. Because of the simple wiring, no maintenance costs and expensive electricity bills are generated. The electricity cost of the city circuit lights is high, the circuit is complicated, and the circuit needs to be overhauled for a long time without interruption. In the case of unstable voltage, it is inevitable that the sodium lamp is fragile, and with the extension of the age, the line aging and maintenance costs increase year by year.
3. A contrast
Because solar street lights use 12-24V low voltage, stable voltage, reliable operation, there are no hidden dangers, and they are ideal products for ecological communities and departments.
There are many hidden dangers in the city's electric circuits and lights. People's living environment is constantly changing. Road reconstruction, landscape engineering construction, abnormal power supply, and cross construction of water and gas pipelines have brought many hidden dangers.
4. Environmental protection comparison
Lithium Battery Solar Street Light can add new selling points for the development and promotion of ecological communities; it can continuously reduce property management costs and reduce the cost of public share of owners. To sum up, the inherent characteristics of solar lightings, such as no hidden dangers, energy-saving, and no consumption, green environmental protection, easy installation, automatic control, and maintenance-free, will directly bring obvious advantages for real estate sales and municipal engineering construction.
5. Lifespan comparison
The life of solar lamps is much longer than that of ordinary electric lamps.
In a word, Solar Street Light Manufacturers believe that the point of saving investment in solar lamps is quite obvious.