Parking lot solar street light project in Thailand, completed in 2017, selected PV series 40W integrated solar street light, installation height is 6M, PV series solar street light adopts all in one design, LED light, lithium battery, solar panel and controller are integrated into one unit, without wiring, directly installed on post top, very convenient. Equipped with microwave induction, the solar street lamp will change to 100% brightness if someone passes by and change to 30% brightness if no one is detected, this intelligent induction mode greatly reduces the daily power consumption, thereby reducing the configuration and saving the cost of lamps.
Product details
Product: 40W All In One LED Solar Street Light
Model No.: ZGSM-PVLD704040
LED: Lumileds
Solar Panel: Monocrystal 70W /18V
Battery: 40AH /11.1V Lithium Battery
Sensor: Human infrared induction
CCT: 5700K
Optics: Type 1S
Installation Height: 6m
QTY: 30 Units
Video
Project Photos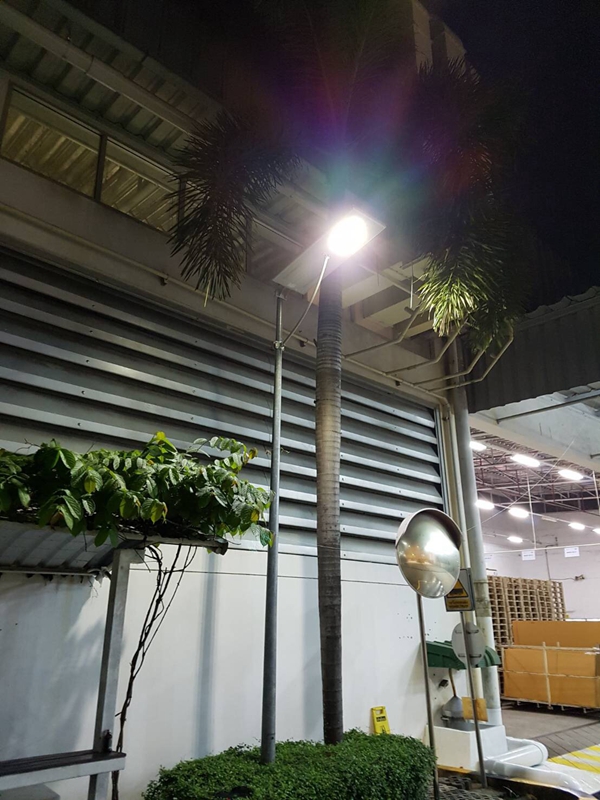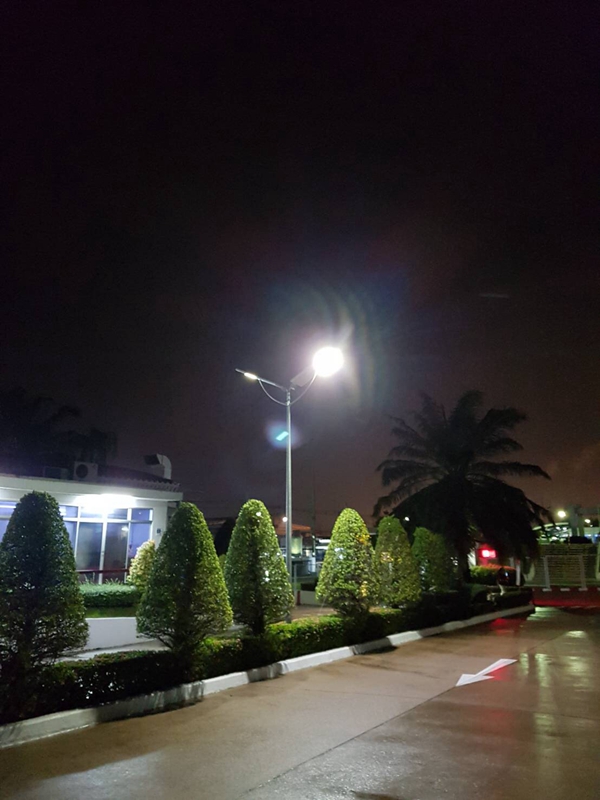 Specification
Model
ZGSM-PV704040
LED Number
60units
Nominal Power
40W
Battery Spec.
40AH /11.1V
Solar Panel Spec.
Monocrystal 70W /18V
LED Brand
Philips Lumileds 3030 2D
Luminous Flux
5200lm
Light type
1S
CCT
3000K.4000K.5000K.5700K
Charge Time
<6.5 Hours (Low battery voltage)
Worktime at Energy
-saving Model(30%)
more than 29.5 hours
Discharge Temperature
-20℃~+60℃
Charge Temperature
<60℃
Light Control Voltage
5-11V
Mounting Height
5-6m
Space Between Lights
15~21m
Pole Diameter Fixture
Round pole: Φ60~85mm; Square pole : 60 x60 ~77 x77mm
Rating
IP65 IK10
Induction Type
Human infrared induction or microwave induction function
Certification
CE, ROHS, LM80
Warranty
3 years
Download

Installation Manual_AIOSolarStreetLight_PV3.pdf

Data Sheet_AIOSolarStreetLight_PV3.pdf
Related Products
Related Projects
Related Blogs
People Also Ask
What Is All In One Solar Street Light?

All in one solar street light is a new version of LED solar street light. It integrates LED Street Lamps, solar panels, lithium batteries, MPPT controllers, motion sensors, and so on into one light fixture.




What are the advantages of All In One Solar Street Lights compared to Solar LED Street Lighting System?

- Better Price. The smart design makes All In One Solar Street Light have a better price, which could also save freight costs.

- Easier to install. The integrated design makes it no need to purchase connect extra wires, and easier to be installed individually.

- More convenient for shipping. The all-in-one design makes it easier to pack and ship.




What is the energy-saving mode of All In One Solar LED Street Light?

All In one solar led street light could be set to work under low power, for example 30% or 50% of full power, when no persons or cars. It would be turned to 100% when the motion sensor induces persons or cars pass.