Jan. 02, 2019
As a LED Street Light Supplier, we also need to know what we should pay attention to before and after LED street light Installation. This is important for us during designing and producing LED street lights.
Precautions Before Installing Street Lights
1. Place Of Installation
First we should know where we need to install the LED street lights, confirm whether there are existed poles. If not, we should pare for installing the poles first, need to determine the distance between adjacent light poles, and dig holes in the ground to fix the light poles. After that, we will need to use large equipment such as cranes to install light poles, and we need to contact and arrange in advance.
2. Tools Need To Prepare In Advance
Before installing street lights, we first need to be familiar with the drawings, specify the requirements. We also need to confirm the details of LED street lights to prepare the materials and tools. For example, Make sure whether the street light can be opened without tools, if not, you need to prepare a screwdriver. ZGSM Rifle series LED street light adopts the excellent tool-free opening design, no need screwdriver during installation and maintenance, which is more convenient and safer.
3. C
heck The Mechanical Parts
Then check the mechanical parts are in good condition. For example, whether the joint bolts of each component are firmly combined, whether the bearings are lubricated, etc., the worn parts should be replaced in time. Check that the grounding system of the motor is secure. If the corrosion is serious, remove the rust. Carefully check the lock of the wire rope. There should be no defects such as broken ends and loose sleeves. The wire rope itself should not have any bias, loose strands, broken wires, hard marks, dents, rust and obvious wear. Pay special attention to this. A stringer and a wire rope clip. Finally, check the limit switch and check whether the power cable is under pressure, pinch, damage, etc. before you can install the street lamp.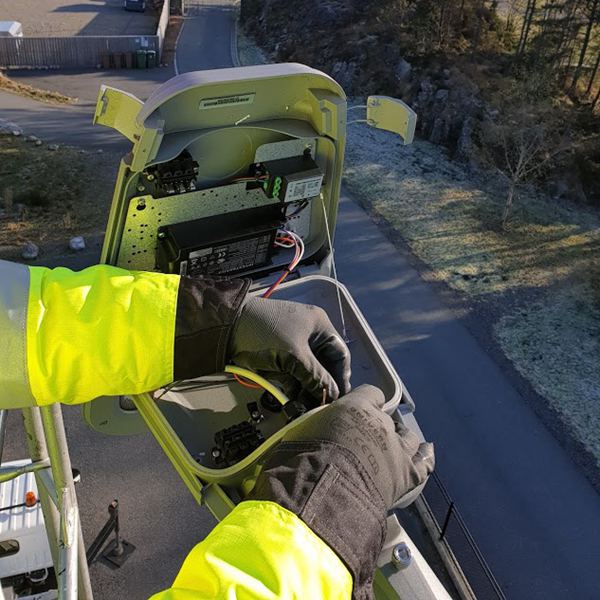 LED Street Light Installation

Notice After The Installation Of Street Lamps
After the installation of the street lamp, it is necessary to ensure the completion of the maintenance work, and make a record of the operation of important equipment such as the motor. The parts with changes in maintenance shall be recorded and modified in time to ensure the accuracy and completeness of the information. Carefully analyze people's psychological feelings, so that the choice and arrangement of light source and illuminator can better meet the basic physiological and psychological requirements of people, and finally prevent the loss of coordination between people and the light environment.
Video Of Tool-feel Open LED Street Light
Download

Installation Manual_StreetLight_Rifle.pdf

Data Sheet_Rifle_StreetLight.pdf
Related Products
Related Projects
Related Blogs
| | | |
| --- | --- | --- |
| | | |
| Solar Street Light Installation Method | Causes & Solutions of Insufficient Solar Street Lights | The Installation Distance Of LED High Bay Light |
| | | |
| Several Misunderstandings in the Installation | What Should Be Paid Attention to | |
People Also Ask
What are the advantages of All In One Solar Street Lights compared to Solar LED Street Lighting System?

- Better Price. The smart design makes All In One Solar Street Light have a better price, which could also save freight costs.

- Easier to install. The integrated design makes it no need to purchase connect extra wires, and easier to be installed individually.

- More convenient for shipping. The all-in-one design makes it easier to pack and ship.




How do you install LED High Bay Lights?

Depending on the application requirements, high bay lights can be hung or mounted in a variety of ways. Suspending the fixtures from the ceiling by a cable, chain, or other mechanism is the most popular and easiest installation option. A v-hook or pendant hook is usually linked to the backside of the fixture, to which the chain or cable is connected.

Direct mounting, which can be done with either a surface mount or a yoke mount, is another popular method. Surface mounting has the smallest profile and is popular for level ceilings that do not require the fixture to be adjusted in any way. Yoke mounting is similar to yoke mounting, however it allows for adjustments for angled ceilings.




Why are my LED solar lights not working?

Because solar lights rely on sunshine for their power, they will not function if they do not receive the required amount of sunlight. As a result, ensure that your solar light is installed or positioned in an area where it will receive sufficient sunshine to charge its battery and function effectively.