Some Common Misunderstandings About LED Lights
Misunderstanding 1: LED Lights Are Harmful To Our Eyes
In fact, because LEDs do not contain ultraviolet rays like other types of light fixtures, they are used in skin and other health therapies. Modern LED lights are just as safe for your eyes as any other source of modern light, and they are even utilized in eye and other health therapies. Blue light, which can be found in sunshine naturally, is a component of LEDs. Limiting the amount of time you spend staring at screens (the main source of blue light), which is obviously bad for you because too much of anything is unhealthy, is a good idea for your health for other reasons as well.
Misunderstanding 2: LEDs Include Hazardous Materials
LEDs from reliable producers don't have any harmful toxins in them. For example, the Lumileds LED and Osram LED used in ZGSM LED Street Lights have high efficacy and high quality. In actuality, one benefit of LEDs over sodium lighting, such as HPS and LPS, is that they can be simply recycled with standard electronics. This eliminates the need for facilities managers to worry about extra recycling, which can be expensive. The flashing of fluorescent lights, especially fluorescent tubes, which is genuinely terrible for your eyes, is another issue entirely. Fluorescent lights do contain harmful mercury and must be recycled at specific facilities. This is unimportant if you get your LED lights from a manufacturer who complies with product standards for industrial testing.
ZGSM Rifle Series LED Street Light
Download

Installation Manual_StreetLight_Rifle.pdf

Data Sheet_StreetLight_Rifle.pdf
Misunderstanding 3: LED Lights Will Disrupt People's Sleep (Circadian Rhythms)
Even if any bright light at night won't make you fall asleep, contemporary lights have been a staple of our homes and workplaces for more than a century. And we're not switching back to candlelight right now, we don't know about you! It's crucial to adopt good sleep hygiene by avoiding electronic gadgets like your phone too close to bedtime rather than throwing out LEDs. We all benefit from this for a variety of reasons!
On the other side, being around LEDs during the day might be advantageous! Blue light, which is present in sunshine naturally, might be beneficial for mood. Because of the superior illumination quality provided by LEDs, you may anticipate that your employees will be able to concentrate better. You can now set your light intensity correctly because LEDs come in a wide range of color temperatures and on dimmers. Both applications of LED lighting in homes and businesses support this. You don't have to spend the entire night worrying about your city because even towns, for instance, can choose different color temperatures of LEDs to restrict blue light exposure and light pollution.Even the color temperatures of streetlights (and all other kinds of LED lights) can vary depending on the time of day! Consider a workplace where blue light levels are higher in the morning to keep workers alert and lower in the afternoons to help the day give way to night. With LEDs, the possibilities are unlimited.
Misunderstanding 4: All LED Lights Shine Too Bright White Light
Although the very first LED Lamps had a highly white appearance, that is simply not the case anymore and hasn't been for years. The color temperatures of LEDs currently range from chilly blue to warm, brilliant yellow. Simply take a look at how far LED holiday lights have come! You may easily reduce your exposure to this bright white, which is brought on by a lot of blue light. In addition, LEDs have the advantage of producing strong light, which makes places safer (like a university campus or city street). Additionally, as was already said, your LEDs may change for the time of day. So, for example, if you're in charge of lighting a college campus, maybe the LEDs start to dim a little at 10:00 p.m., when most students are getting ready for bed.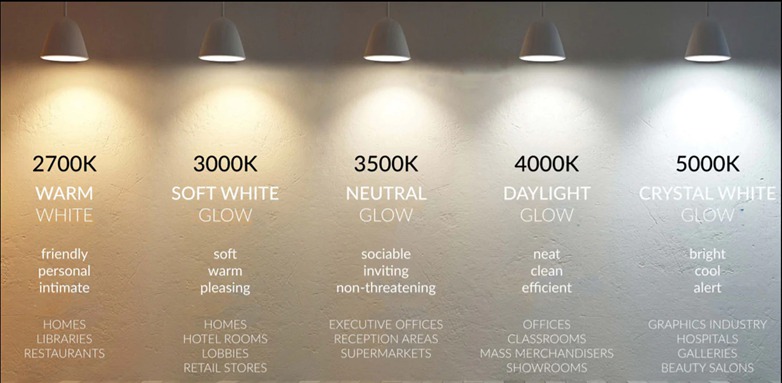 Guide To Choose Correlated Color Temperature
The Final Summary
All modern technology carries risks, as we all know, so it's critical that we constantly researching and updating these technologies to address issues. LEDs are constantly getting better, so they are not the same as the first generation of LEDs, which received a lot of flak and perhaps deservedly so. The health risks associated with LED lighting are frequently mentioned in relation to outdated models or subpar goods. In order to get LEDs that are healthy for you and your customers/community, with the correct correlated color temperature, physical color temperature, kelvins, etc. to control blue light, and implement only high-quality, industry-tested LEDs, it is absolutely essential that you work with an LED lighting specialist. Otherwise, you can get a dangerous LED. LEDs are NOT a commodity, and they are not all made equally, as we frequently emphasize. To ensure you achieve the best results, we are happy to assist you with your commercial LED lighting project. Pls don't hesitate to contact us for professional advise if you have any demands.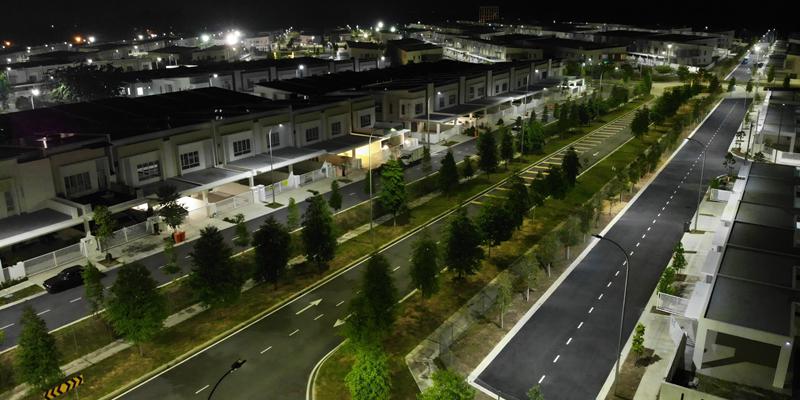 City Street Lighting Project In Malaysia With H Series LED Street Light
Related Products
Related Projects
| | | |
| --- | --- | --- |
| | | |
| | | |
| | | |
| | Modular Design LED Flood Light Project | |
Related Blogs
People Also Ask
1. What are the benefits of LED solutions?

· Significant energy savings - more than 60% as compared to typical street lighting


· Good color rendering, which makes colors appear more natural.

· Long service life - up to 100,000 hours, resulting in lower maintenance costs.

· White light that is uniform and of good quality. LED lighting helps to make spaces safer by improving facial recognition for security and CCTV cameras.

· When light is not required, LEDs can be muted, resulting in extra energy savings. LEDs can also be networked and controlled remotely by connecting them to sensors and controls.

2. What is LED?

LED means Light-emitting diodes. These are electronic components that use the passage of electrons within the diode's substance to directly transform electrical energy into light. LEDs are significant because they are starting to replace the majority of traditional light sources thanks to their efficiency and low energy consumption.

3. How do you replace metal halide with LED?

Depending on how the existing lighting configuration is configured, there are a variety of approaches to retrofit lighting systems with LEDs. In many circumstances, replacing the existing fixture with a new LED fixture that produces a comparable lumen output is the simplest and most basic solution.

In other cases, reconfiguring a complete lighting system plan to effectively update to LED technology may be necessary. There are a few cases when an LED retrofit kit can be used to update an existing fixture, but this requires some electrical knowledge to execute successfully.