Feb. 21, 2019
High-pressure sodium lamps were all we were familiar with in the past, but as LED street lights evolved more quickly, high-pressure sodium lamps progressively disappeared from our view. The reasons why led street lights become so popular and develop so rapidly may intrigue many individuals. As a professional LED Street Light Supplier, ZGSM will share our views on this with you.
1. The Rapid Development of LED Technology
We all know that LED chips are the core components of LED street lights. In recent years, LED technology is also developing rapidly, and the lifespan and light efficiency of LED chips are constantly improving, which has also led to the development of LED street lamps. Now the life and light efficiency of LED street lamps have also improved a lot. For example, ZGSM Rifle series LED Street Light has a lifespan of more than 100000 hours and its luminous efficacy could be up to 170lm/W.
Introduction Video Of Rifle Series LED Street Light
Download

Installation Manual_StreetLight_Rifle.pdf

Data Sheet_StreetLight_Rifle.pdf
2. The
Rapid Development of LED Driver
The LED driver is another main component of LED street lamps, and the rapid development of drivers is also one of the main reasons for the rapid development of LED street lamps. The increase in the lifetime of the drivers extends the working life of the LED street lamp, reaching more than 100,000 hours. The diversified functions of the driving power supply make the LED street lamps more comprehensive and can meet the requirements of different applications. For example, LED street lamps with Class II driver can be used in countries such as Italy and Germany that require double insulation; street lamps with 0-10V dimming and DALI dimming could work together with intelligent control systems to achieve smart lighting. The built-in 6KV/10KV surge protector in the driver can protect the street lamp well when the lamp is used in countries and regions with unstable voltage, and can also protect the street lamp from being damaged by lightning. Equipped with LED drivers with different input voltage, LED street lights could also have different uses: 12V/24V DC could be used in solar street lightings, 100-240V/277VAC could be used in city street lightings in most countries, 347V/480V/528V AC high voltage type could be used in some industrial lightings. The improvement of the Power Factor (PF) and efficiency of the driver can also improve the light efficiency of LED street lamps, making the street lamps more energy-saving.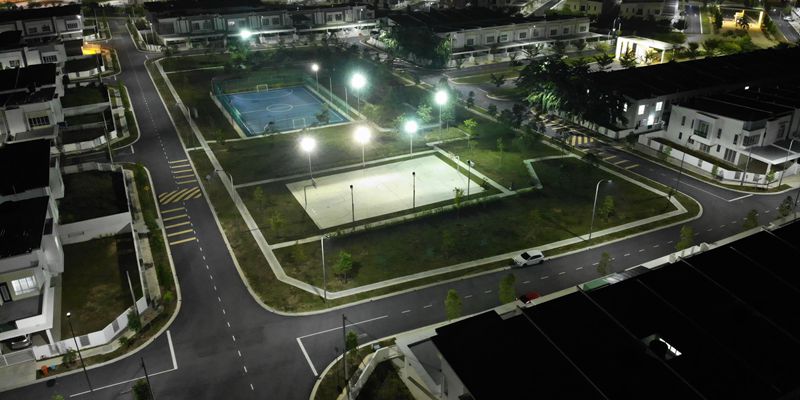 LED Street Light Project In Malaysia
3. Widely Use of LED Street Light
As we talked in the blog 'LED Street Light vs High Pressure Sodium/Low Pressure Sodium Light, Which Is Better?' , LED street lights are much better than High Pressure Sodium (HPS) lights because of higher luminous efficacy, wider color temperature, higher color rendering index(CRI), longer lifetime, and so on. Now more than more HPS lights are replacing by LED street lights. It is precisely because the application of LED street lamps is becoming more and more extensive, and the demand is increasing, so lighting manufacturers focus on the research and development of LED street lamps, and LED street lamps will develop so fast.
4. Cost Of Street Light

As the application of LED street lamps becomes wider and wider, the demand for street lights will increase, and the output of the materials & the whole lamp will become larger and larger, which will cause to reduce the average cost of LED street lamps. The cost of LED street lights has been reduced, the LED street light price has become cheaper, and the cost performance is higher, resulting in greater application and demand for LED street lights. These are two mutually reinforcing factors.
With the rapid development, LED street lamps are surpassing high pressure sodium lamps in all aspects. The biggest selling points of high-pressure sodium lamps in the past, such as high luminous efficiency and long lifespan, have been completely surpassed by LED street lamps. Even the last item,cheap price, no longer holds. Because the longer lifetime of LED street lamps makes the lifetime cost of LED street lamps already lower than that of high-pressure sodium lamps. Therefore, LED street lights have become the best choice for lighting solutions. In front of LED street lights, we have no reason to choose high pressure sodium lamps.

Related Products
Related Projects
Related Blogs
People Also Ask
1. What are the benefits of LED solutions?

· Significant energy savings - more than 60% as compared to typical street lighting

· Good color rendering, which makes colors appear more natural.

· Long service life - up to 100,000 hours, resulting in lower maintenance costs.

· White light that is uniform and of good quality. LED lighting helps to make spaces safer by improving facial recognition for security and CCTV cameras.

· When light is not required, LEDs can be muted, resulting in extra energy savings. LEDs can also be networked and controlled remotely by connecting them to sensors and controls.




2. What is Class II?

IEC protection Class II power supplies will have a two-wire power cord as opposed to a three-wire power cord with Safety Earth connection.The concentric square symbol or the words "Class II" or "double insulated" are frequently used to identify products having Class II insulation on safety labels.




3. What is a motion sensor?

A motion sensor is a device that recognizes physical movement on a product or in the surrounding area. Real-time physical and/or kinetic movements can be detected and recorded by it.

Another name for a motion sensor is a motion detector.

The motion sensors in LED lighting area are usually used for detecting passing persons or cars. When there are no persons or cars, the LED lights could work under energy-saving mode, for example 30% power. If there are persons or cars coming and detected by motion sensor, the motion sensor would turn the LED lights to 100% power automatically.