There are many ways to find and purchase LED lighting products for your projects. However, which is the best choice among a LED lighting manufacturer, distributor, and general contractor ? Generally speaking, the answer varies based on the specifics of your circumstance.
Here is a brief overview of the three most popular methods:
Purchasing LED Lighting Products From A General Contractor
You can give the task of finding energy-efficient lighting options to your general contractor. Perhaps they cooperate with a specific distributor (whether it is national, regional, or local). The lighting products of the contract might also be placed out to bid with a variety of wholesalers. Your single point of contact is responsible for managing the situation in any scenario (the GC). Change orders, inventory, and billing will all be handled by the GC. If the cost of led lighting project isn't the most important concern, you'll probably spend more for the service but have fewer worries.
When creating a facility from the ground up and taking into account a variety of factors, working with a general contractor is typically the best choice. In this situation, using the GC as the only point of contact to oversee the entire project makes logical.
However, there are a few issues to be aware of when working with a general contractor:
1. Make sure the contractor has a good justification for awarding various project components to various LED lighting wholesalers. Purchasing from various vendors will make it more challenging to take advantage of volume savings.
2. Controlling quality can be challenging. A GC will frequently make an effort to buy a product from the most affordable supplier. To avoid problems in the future, it is crucial to have standards or specifications that call for a minimum degree of performance or quality from lighting goods.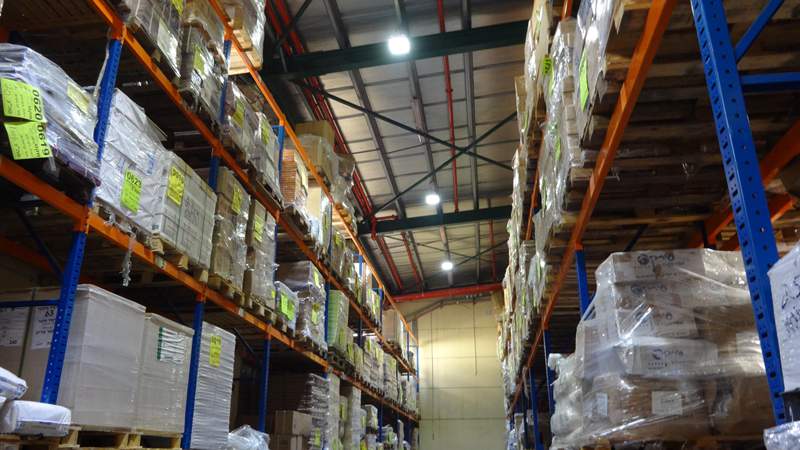 Warehouse Lighting Project Using ZGSM Modular Design LED High Bay Lights

Purchasing LED Lighting Products From A LED Lighting Distributor
You can get LED lights from a distributor instead of a general contractor. If you choose to deal with a distributor, you will probably save money by cutting out a third middleman (the general contractor) in exchange for the additional work necessary to locate and manage the distributor connection (your GC might do this for you but will likely charge on top of whatever the distributor charges). Working with a distributor directly has a number of benefits:
1. Many distributors will oversee the entire product implementation process.
2. Because they are connected to the numerous businesses producing lighting products, distributors are likely to have extensive knowledge of the wide range of lighting options available on the market.
3. Contractors can be given a single set of lighting specifications from a single distributor, giving them a single benchmark to compare their purchases to. A single buying guideline will guarantee uniformity throughout the many geographical areas and the various contractors you might be working with.
4. Distributors can build up a lighting procurement program to make sure that timing and budgetary concerns are recognized and addressed in advance.
5. Regional or local distributors might be able to acquire items swiftly and save money by offering shipping to your region at a lesser rate.
Working with a lighting distributor is your best chance if you want to know what's new, what works best, which LED lights are great quality and which are rubbish. Additionally, there is typically no need to contact a general contractor if you are performing a lighting retrofit or conversion at your current facility (as opposed to new construction). In either instance, you must manage the bid process and put the project up to bid. If the project's entire scope is limited to lighting alone, there is no benefit to using a middleman. However, if you choose to hire a general contractor, there is a significant probability that they are collaborating with a distributor. Lighting distributors may typically assist you by providing knowledge of state and federal rebates or financing choices in addition to having the most expertise on lighting industry trends, new products, and companies.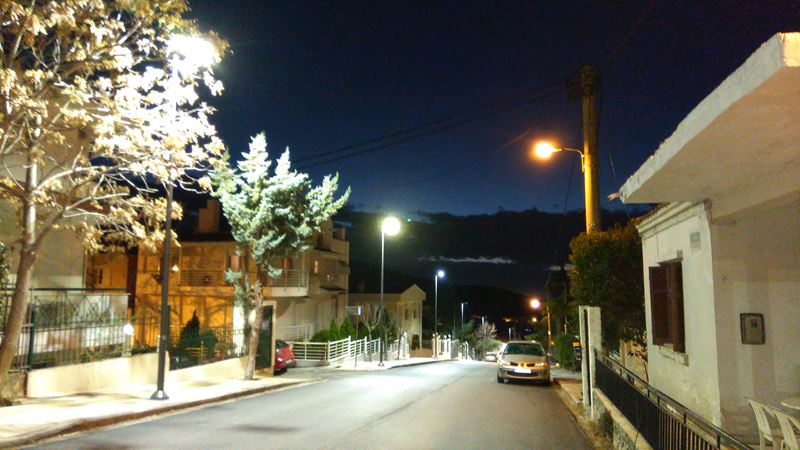 Residential Street Lighting Project Using ZGSM K Series LED Street Light
Download

Installation Manual_StreetLight_K.pdf

Data Sheet_ StreetLight_ZGSM-LD150KL.pdf
Purchasing LED Lighting Products From A LED Lighting Manufacturer
If you can find a suitable LED lighting manufacturer, you can also buy LED lighting directly from the manufacturer. A suitable and reliable manufacturer can not only provide more favorable product prices, but also provide more professional technical support. Let's talk about the benefits of buying LED fixtures directly from LED fixture manufacturers:
1. Best Price.
Because LED lighting manufacturers have truly achieved no middlemen to add extra profits;

2. Support OEM and ODM.
LED lighting manufacturers can customize products according to customer requirements, and can affix the customer's brand label, which is impossible for LED lighting distributors;
3. Leadtime is more reliable.
LED lighting manufacturers understand and control the entire production process, and tell customers that the delivery time is more accurate;
4. Perfect quality control system.
Taking ZGSM as an example, ZGSM has a complete quality control system, whether it is the inspection of raw materials, the inspection of semi-finished products, as well as the parameter inspection and aging test of finished products, and finally to the packaging process, we strictly control;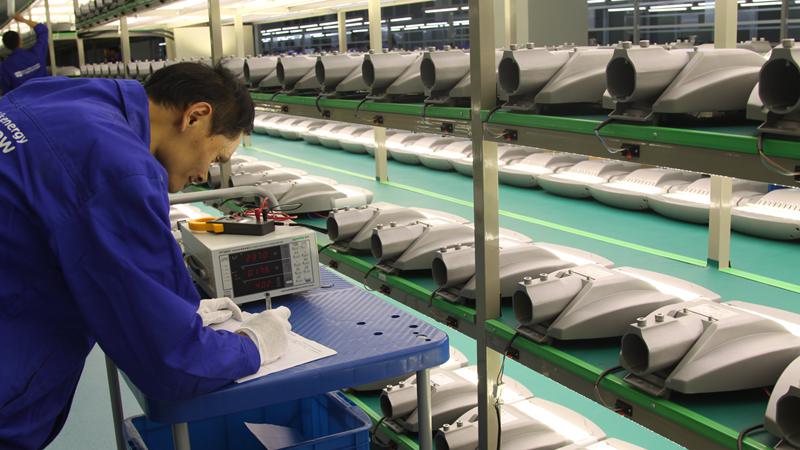 Technician Of LED Lighting Manufacturer Inspecting Finished LED Street Lights
5. More professional team.
Take ZGSM as an example, ZGSM has a very strong team, including professional technical team and excellent sales team. The technical team has a good understanding of the LED lighting industry and can design high-quality, high-performance LED lamps that meet the requirements of different regions and projects in the world. The excellent sales team has a very good understanding of the products, and is also familiar with the lighting conditions and needs of different markets, and can accurately recommend the most suitable solutions according to customer requirements. Not only that, for after-sales problems, such as installation and lamp failure, we can also give professional and effective advice at the first time.
6. Reliable warranty.
LED lighting manufacturers provide a corresponding warranty for each product they produce, usually 2-10 years. In the event of a lamp failure during the warranty period, we will help customers find out the problem as soon as possible. If the damage is confirmed, we will immediately arrange to send new accessories or lamps.
Introduction Video Of ZGSM Factory
Summary
To sum up, we can find that LED lighting manufacturer is our best choice. But we need to find a reliable lamp manufacturer. Some lighting manufacturers are not professional enough and seem to have low prices, but the quality of the products they produce is not high enough. Some companies are actually traders, but lie to their customers that they are manufacturers. So how to find a reliable LED lighting manufacturer?
ZGSM is one of the best LED lighting manufacturers in China, established in 2005, dedicated to R&D, design and production of LED lighting products, including LED street light, solar street light, LED high bay light, LED flood light, LED recessed light, LED Tunnel lights, LED gas station lights, LED stadium lights, LED traffic lights, LED grow lights and other products. It has a history of more than 17 years, and its products have been sold to more than 90 countries around the world. ZGSM not only provides high-performance products with reliable quality, but also provides professional and efficient pre-sales and after-sales services. It is the best choice for LED lighting users, engineers and distributors all over the world. More details about ZGSM or ZGSM led lighting products, pls contact us.
Related Products
Related Projects
Related Blogs
| | | |
| --- | --- | --- |
| | | |
| LED Street Light Procurement Skills | | LED Street Light VS HPS & LPS Light |
| | | |
| 2017 HK international Lighting Fair | Talk about the price of solar street lights | What Parameters Should I Pay Attention To |
People Also Ask
1. Is ZGSM a manufacturer of trade company?
ZGSM is a professional China LED light manufacturer since 2005. We have specialized in R&D and production of LED lighting products for more than 17 years.
Our factory covers an area of 20,000㎡ and the production workshop of about 5000㎡. We have more than 100 employees. Among them, about 60 is workshop workers, and 10 are technical staff and R&D personnel.
The production capacity is 1200 sets per day. (Please note that the production capacity and delivery date are different concepts, and the delivery time is related to the materials). Our main market is Europe and America. The luminaires have safety test (grounding, high voltage, insulation) before power-on. After the safety test, the light fixtures have aging test for at least 24 hours. The power-off-on mode is automatically set during the aging test process. At the end of aging test, the samples will be fully test. For the batch order, the appearance is 100% full inspection during aging, and sampling inspection for the electrical parameters. After the QC ends, the goods will be transferred to the packaging area. The company's annual sales is about 15 000 000 US dollars, and the annual shipment is about 200,000 sets. We always welcome customers to visit the factory and communicate.
2. What are the benefits of LED solutions?
· Significant energy savings - more than 60% as compared to typical street lighting
· Good color rendering, which makes colors appear more natural.
· Long service life - up to 100,000 hours, resulting in lower maintenance costs.
· White light that is uniform and of good quality. LED lighting helps to make spaces safer by improving facial recognition for security and CCTV cameras.
· When light is not required, LEDs can be muted, resulting in extra energy savings. LEDs can also be networked and controlled remotely by connecting them to sensors and controls.
3. What are the advantages of All In One Solar Street Lights compared to Solar LED Street Lighting System?
- Better Price. The smart design makes All In One Solar Street Light have a better price, which could also save freight costs.
- Easier to install. The integrated design makes it no need to purchase connect extra wires, and easier to be installed individually.
- More convenient for shipping. The all-in-one design makes it easier to pack and ship.