LED Street Lighting Project of Residential Areas In Greece, finished in 2017. By replacing old street lamps with 14pcs 45W, 168pcs 65W, 145pcs 110W, and 8pcs 140W ZGSM designed & manufactured K Series LED Street Lamps, we help this community to achieve energy-saving of more than 60%. What's more, the situation of roadway lighting is much better than before, which makes residents much safer when walking or driving in the evening. Our client is very satisfied with the performance of ZGSM K Series LED Street Lights. ZGSM K Series Street LED lamps could also be equipped with photocell sensor and used in the LED solar street lighting system.
Product Details
Products: 45W & 65W & 110W & 140W LED Street Lights
Model No.: ZGSM-LD60KM-45W, ZGSM-LD90KM-65W, ZGSM-LD120KM-110W, ZGSM-LD150KL-140W
LED: Lumileds 3030
Driver: Meanwell
CCT: 4000K
Optics: Type 2M
Housing Color: Dark Grey
QTY: 335 Units
Video
Project Photos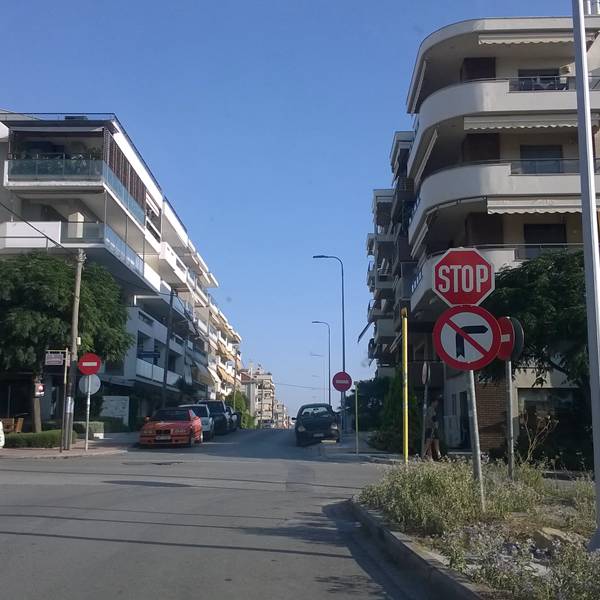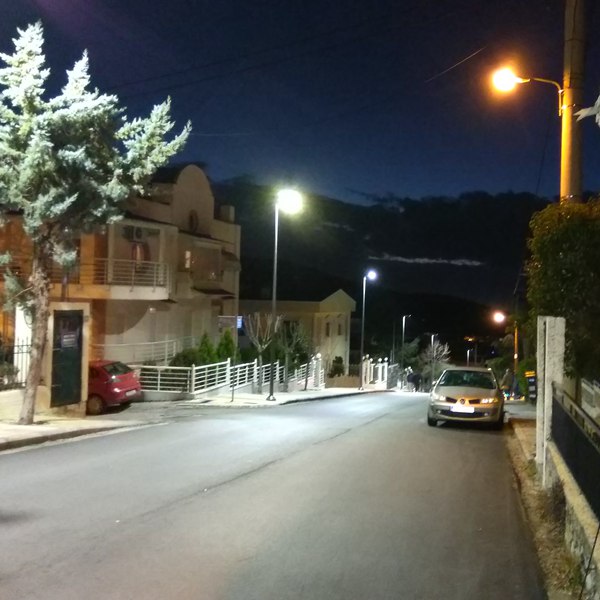 Specification

| | |
| --- | --- |
| Model | ZGSM-LD90KM |
| LED Brand | LUMILEDS® LUXEON 3030 or 5050 |
| Driver Brand | Meanwell / Inventronics |
| Norminal Wattage | 90W |
| LED Chip Quantity | 3030: 144pcs 5050: 72pcs |
| Input Voltage | 100-240/277VAC |
| Power Efficiency | >90% |
| Power Factor | >0.95 |
| Lamp Rated Luminous Efficiency | 130-150 lm /w |
| Lamp Rated Lumen output | 11700-13500 lm (Lumen tolerance +/- 5%) |
| Color Rendering Index | 70(80 optional) |
| Color Temperature | 3000K or 4000K or 5000K or 5700K |
| Photometric Type | Type I Medium;Type II Medium;Type III Medium |
| Optimal Operating Temperature | 25℃ |
| Storage Temperatures | -40°C~50°C |
| Working Environment | Between-40°C~+50°C, 10%~90%RH |
| Total Harmonic Distortion | < 10% |
| Lumen Maintenance | > 100,000 hours -L70, @25 ºC (77 ºF) |
| Wind Index | Force 12 |
| Body and Shell Materials | Die-cast aluminum;Tempered Glass |
| Pole Fitter Diameter | 60mm ( 50mm optional) |
| Rating | IP66 IK08 |
| Protection | Class I ( Class II optional) |
| SPD | 10KV (20KV optional) |
| Certification | CE, ENEC,CB ROHS,LM80,LM79,IP66 IK08,ISTMT |
| Dimming Options | 1-10V or DALI or PWM or Timer |
| Control Options | Photocell or Motion sensor or Smart control |
| Color Options | Deep grey or Light grey |
| Warranty | 7 years |
Download

Installation Manual_StreetLight_K.pdf

Data Sheet_ StreetLight_K_ZGSM-LD60KM&90KM&120KM&150KL.pdf
Related Products
Related Projects
Related Blogs
| | | |
| --- | --- | --- |
| | | |
| Light Source Of LED Street Lamp | The Ways Does LED Street Lamp Radiate Heat? | What Are The Advantages Of Led Street Lamps |
| | | |
| In-Depth Analysis of Led Street Lights | How To Choose Led Street Lights Correctly? | LED Street Light System Installation Process |
People Also Ask
What are the benefits of LED solutions?

· Significant energy savings - more than 60% as compared to typical street lighting

· Good color rendering, which makes colors appear more natural.

· Long service life - up to 100,000 hours, resulting in lower maintenance costs.

· White light that is uniform and of good quality. LED lighting helps to make spaces safer by improving facial recognition for security and CCTV cameras.

· When light is not required, LEDs can be muted, resulting in extra energy savings. LEDs can also be networked and controlled remotely by connecting them to sensors and controls.




What is color temperature and why is it important?

Color temperature is expressed in Kelvin and is a mathematical calculation based on a light source's Spectral Power Distribution (SPD). It enables a large range of unique color combinations. Different combinations of Correlated Color Temperature (CCT) and Color Rendering Indexes (CRI) are available in LED lighting, which can have different impacts on eyesight. The color temperature is measured in degrees Kelvin, with a warm light (yellowish) being around 2700K, neutral white being approximately 4000K, and cool white (bluish) being around 5000K or more.

Protecting the public with lighting that promotes alert drivers and a safe environment may be the greatest priority in many outdoor applications, to explain why it's necessary. In those circumstances, the suggested color temperature is used, taking into account the space and the people who will be using it.




How can optics and controls help mitigate any negative impacts of public light?

Controls for ZGSM lighting solutions, such as dusk-to-dawn sensors, can automatically dim or turn off the luminaires depending on the time of day, lowering both energy usage and any adverse environmental effects. Our solutions also include shields to reduce sidelight and uplight as well as, most crucially, "optics" to lessen glare regardless of how much blue light or what color temperature (e.g., 3,000K vs. 4,000K) they produce.