The football field lighting project in Italy was finished in 2016. There are 56 units of 560W LED stadium flood lights installed on the high mast of 36 meters high. We chose 30 degree beam angle for each lamp so that the light could be concentrated enough on the football field. This could make full use of the light output, avoid light pollution and prevent glare. After using this new solution, both players and the audience have had a very good experience no matter when it is training or in a match. We provide 5 years warranty for the whole light fixtures, while no failure feedback about the high mast stadium lights in this project has been received after 6 years of work.
Product Details
560W J series High Mast Stadium Flood Light, Model: ZGSM-TGD560J, 4000K, 30degrees, 56pcs
(Note: J series high mast led stadium lights have been discontinued and replaced by M series.)
Video
Project Photos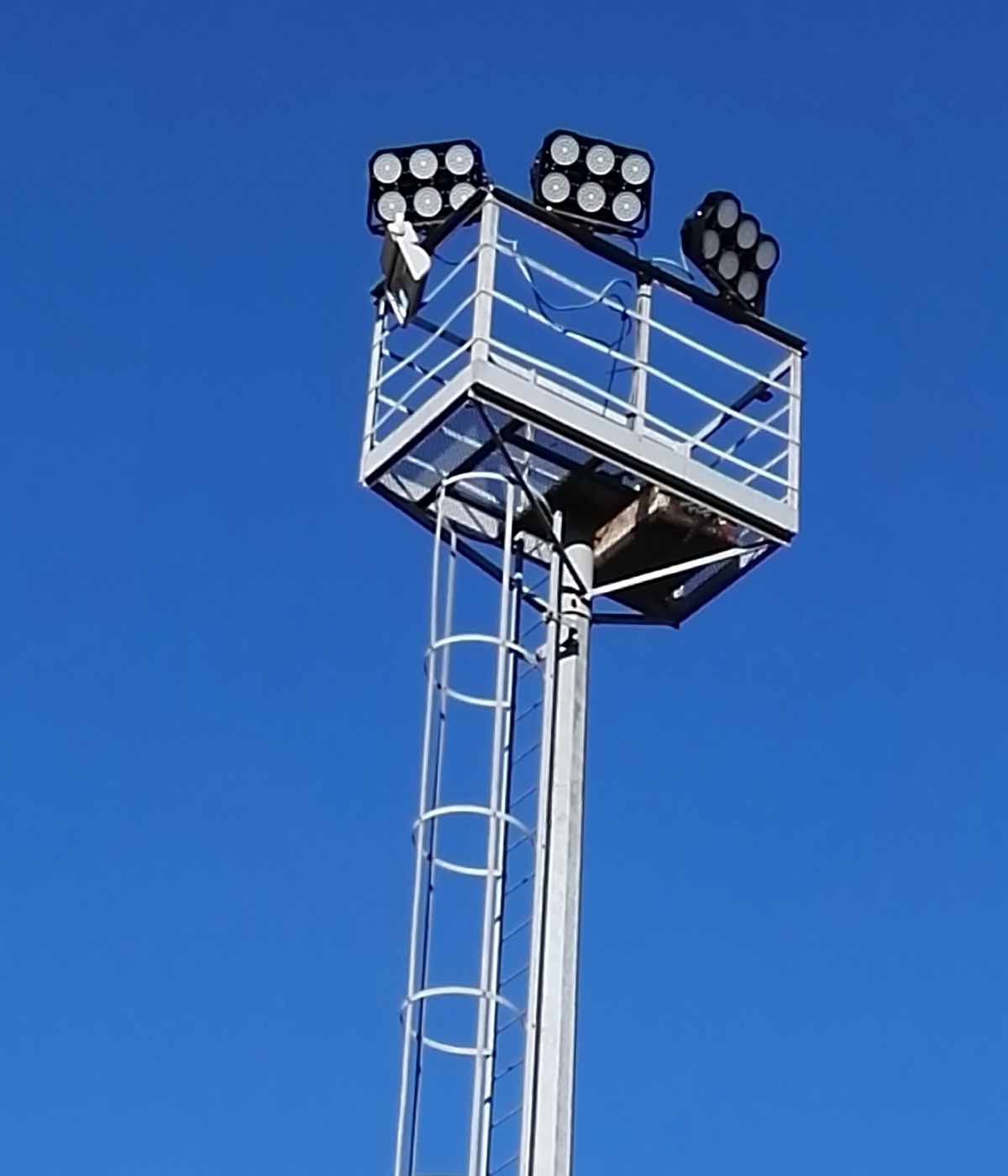 Specification
| | |
| --- | --- |
| Model | ZGSM-TGD560M |
| LED Brand | Philips Lumileds 3030 2D |
| Driver Brand | INVENTRONICS EUC Series |
| Normal Wattage | 560W |
| LED Quantity | 896 Pcs |
| Input Voltage | 100-240/277VAC, 50/60Hz |
| Power Efficiency | >90% |
| Power Factor | >0.95 |
| Lamp Rated Luminous Efficiency | >150lm/w |
| Lamp Rated Lumen output | 84000 lm (Lumen tolerance +/- 5%) |
| Color Rendering Index | Ra>70 |
| Color Temperature | 3000K, 4000K, 5000K, or 5700K |
| Photometric Type | 15, 30,45, 60 degrees |
| Optimal Operating Temperature | 25℃ |
| Storage Temperatures | '-40℃~+50℃ |
| Working Environment | Between-40°C~+50°C, 10%~90%RH |
| Total Harmonic Distortion | < 10% |
| Lumen Maintenance | > 100,000 hours -L70, @25 ºC (77 ºF) |
| Body and Shell Materials | Stretched Aluminium Alloy |
| IP Rating | IP66 with a test report |
| Certification | CE, ROHS |
| Optional Function | 1-10V DC Dimming |
| Warranty | 5 years |
Download

Manual_ProjectorLight_M.pdf

Data Sheet_Stadium Light_M.pdf
Related Products
Related Projects
Related Blogs
| | | |
| --- | --- | --- |
| | | |
| | What Is LED Flood Light? | What Are The Main Application Areas |
People Also Ask
What is a stadium flood light?

Stadium lights are extremely high power sports lights that are positioned at great heights and have narrow beam angles that typically range from 12 to 60 degrees. Smaller beam angles increase the light intensity inside that angle, allowing strong light to descend from higher elevations.




What is color temperature and why is it important?

Color temperature is expressed in Kelvin and is a mathematical calculation based on a light source's Spectral Power Distribution (SPD). It enables a large range of unique color combinations. Different combinations of Correlated Color Temperature (CCT) and Color Rendering Indexes (CRI) are available in LED lighting, which can have different impacts on eyesight. The color temperature is measured in degrees Kelvin, with a warm light (yellowish) being around 2700K, neutral white being approximately 4000K, and cool white (bluish) being around 5000K or more.

Protecting the public with lighting that promotes alert drivers and a safe environment may be the greatest priority in many outdoor applications, to explain why it's necessary. In those circumstances, the suggested color temperature is used, taking into account the space and the people who will be using it.

If you don'w know which CCT to choose, pls kindly contact us for professional advice.




Are LED stadium flood lights eco friendly?

LED stadium flood lights are strong, long-lasting, and produce no toxic waste. They also reduce the need for frequent bulb changes. When you use an LED stadium floodlight, you can save up to 80% on electricity costs. Unlike other options, LED stadium floodlights do not contain mercury or lead, and emit no toxic emissions such as carbon.